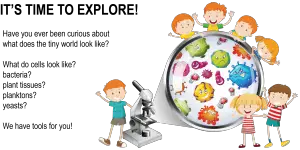 ---
Here are our most popular posts:
For more lessons, please click the lesson on the top right side.
We' are so happy you're here! My husband and I both have more than 20 years experience working in biomedical laboratories in world-class research institutions. We realized the fundamental way to advance science is to incubate our curiosity and education. We see lots of science fair kits and home-school products with poor quality and without user-friendly instructions. We are passionate about science and put out enthusiasm into our product. We hope you will use our instruction/product and start looking at the cells, micro-structures of plant leave and stems! Have a wonderful scientific journey with us. Don't hesitate to contact us help@rsscience.com
-Rachael
---
Here are our most popular products
The following post contains affiliate link, which means I receive a small commission, at no extra cost to you, if you make a purchase using this link
For all the product, please visit our Amazon store
Reviews from Amazon
Great homeschool kit!
Wow! I was not expecting this to be this good. I ordered for homeschool biology class and want to do as many labs as we can. Clear instructions and ideas- just better educationally than I expected so it was definitely a good choice for our needs!
                                                                                                                                     — Erin Powell
Great Starter Microscope Slide Preparation Kit
I am very pleased with the microscope slide preparation kit. All of the items listed in the product description were present, and of good and durable quality. I bought the kit on the recommendation of another Amazon review when I bought my elementary-aged daughter a microscope, and I am very glad I did. I recently used the microscope in my own elementary classroom, and had my preschool students prepare and observe their own slides. The methylene blue solution, in particular, helped us create very clear slides of pond water samples. There was also a cute sticker included, along with a contact card in case there were any defective items. I would (and likely will) repurchase this item in the future.
This is a great little kit to get someone started on creating their own microscope slides. Everything you need is provided. Great for those home scientists.