I Love Microscopes
I still remember the birthday gift that my parents gave me when I was 8. It was a biological microscope kit! Although I remembered that the microscope was cheap and the images weren't good, it didn't stop me from spending hours looking at things under the microscope.

That excitement last. I ended up going to college to pursue a degree in biology (and met my wife ❤️). I have a Ph.D. degree in Molecular Medicine and I am working now in the laboratory of one of the best medical schools in the United States. Microscopy is still the most important tool in my research (of course, the quality of images is not the same level). That birthday gift was the beginning of a life-long love of looking at unknown things under microscopes. This is also the main driving force for us to write this blog and share the microscopic world with you.
A microscope is a good idea for a special gift
A microscope could be a wonderful gift for many reasons. The most significant one is – a microscope is such a simple but essential tool that opens the door to the microscopic wonderland. It could be the first step of inspiration for someone to fall in love with science (like me).

Investing in a microscope can pay huge dividends in encouraging free exploration. It keeps us shortly away from electronics and screens; just look at these tiny, but magnificent things that we used to overlook.
I learned that our audiences cover diverse groups, including teachers, students, homeschool parents, and science hobbyists. If you like to invite more people to join our adventure, giving them a suitable microscope could be a very special gift!
My pocket list of microscope gift ideas
There are so many choices of microscopes out there. If you want to encourage this kind of exploration by gifting a microscope, here is a little help to get you started.

Note: we have no relationship with these vendors or companies except for Rs Science. I recommend these products based on personal opinions and experience. We may receive a small commission if you click the Amazon links and purchase any item (no cost to you). Thank you in advance 😁❤️!
Compound Microscope
High CP value workhorse – OMAX 40x-2000x LED Binocular Compound Lab Microscope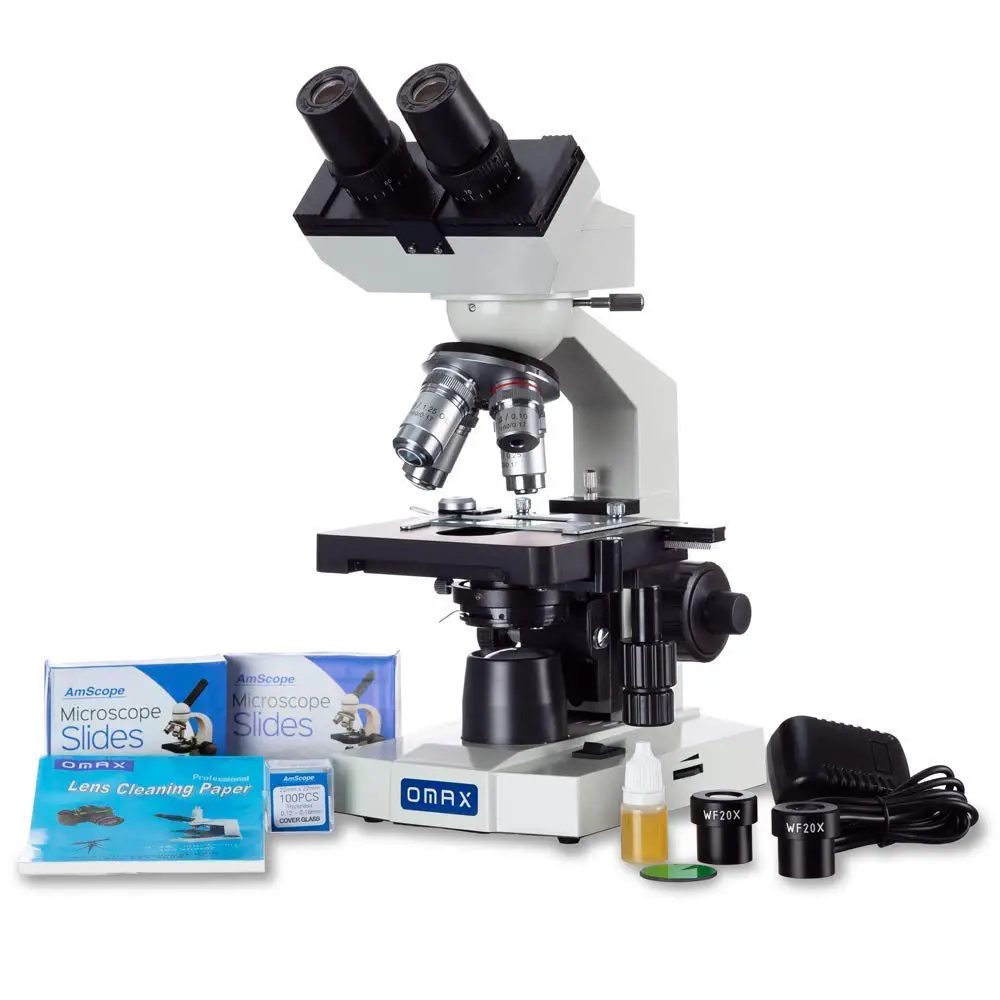 This OMAX microscope could be a decent choice for anyone who wants to pick up their first microscope. With the price below $250, you received a binocular compound microscope with two eyepieces (wide field 10x and 20x) and four objective lenses (4x, 10x, 40x, and 100x). You can have total magnification from 40x to 2000x, which is sufficient for most users.

The distance between your two eyes is adjustable (interpupillary adjustment). The difference in vision between your two eyes can also be corrected (diopter adjustment). This microscope has an X-Y mechanical stage, Abbe condenser with iris diaphragm, and LED light source, which are the essential parts for a decent microscope.

If you want to know more about what parts of a compound microscope are, check our post: Compound Microscope Parts.
This microscope is a classical design. Not fancy, but it could be a workhorse with you for decades. Many professional microphotographers still use similar models routinely.
If you want to take pictures or videos, there are two options:
1. Purchasing an adapter that can hold your smartphone in front of the eyepieces.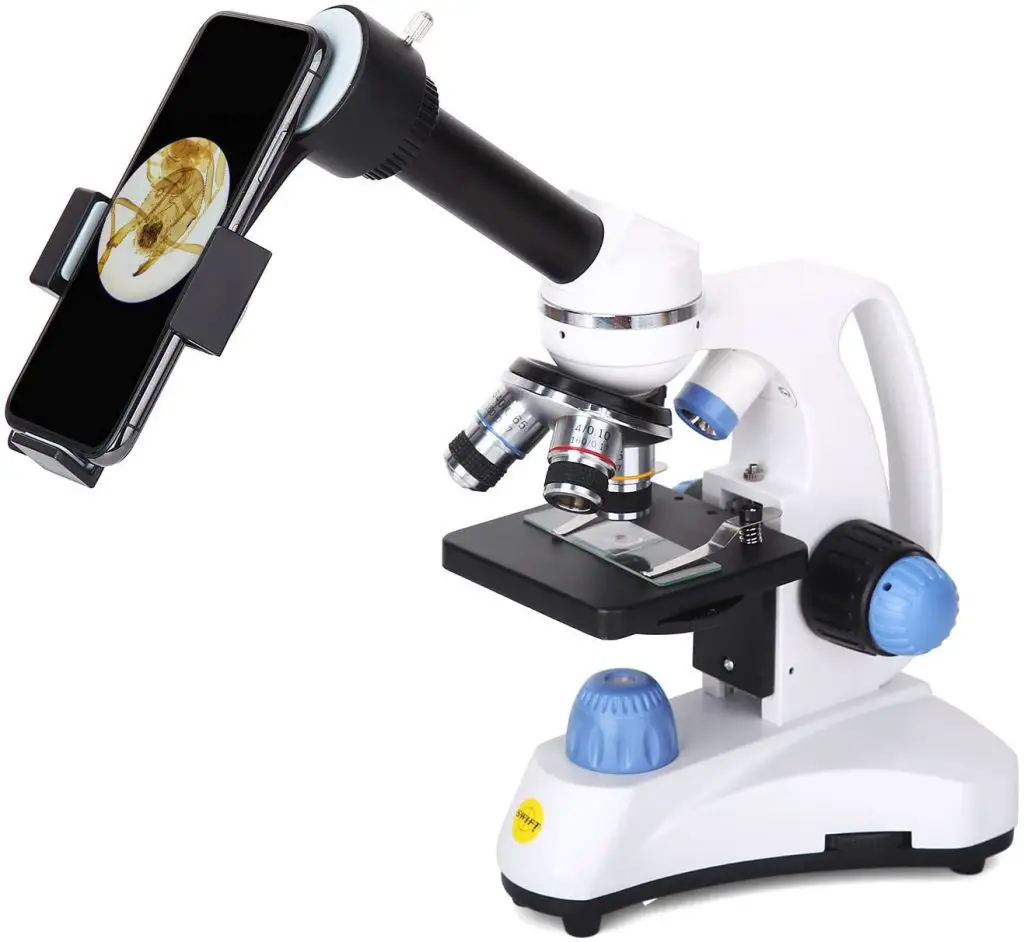 [In this image] Swift Microscope Smartphone Adapter (Fits 26mm Eyepieces).
---
2. Choosing a Trinocular model so that you can mount a CCD camera or DSLR camera to the additional port.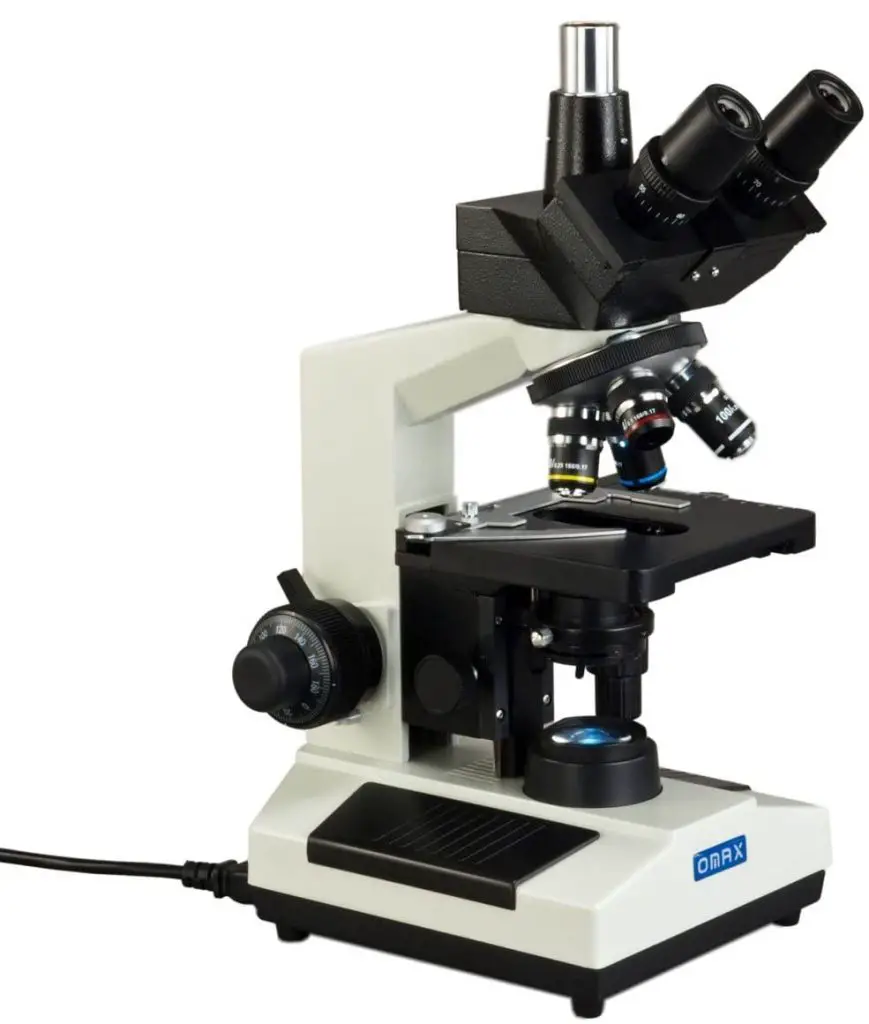 [In this image] OMAX 40X-2500X Trinocular Biological Compound Microscope.
---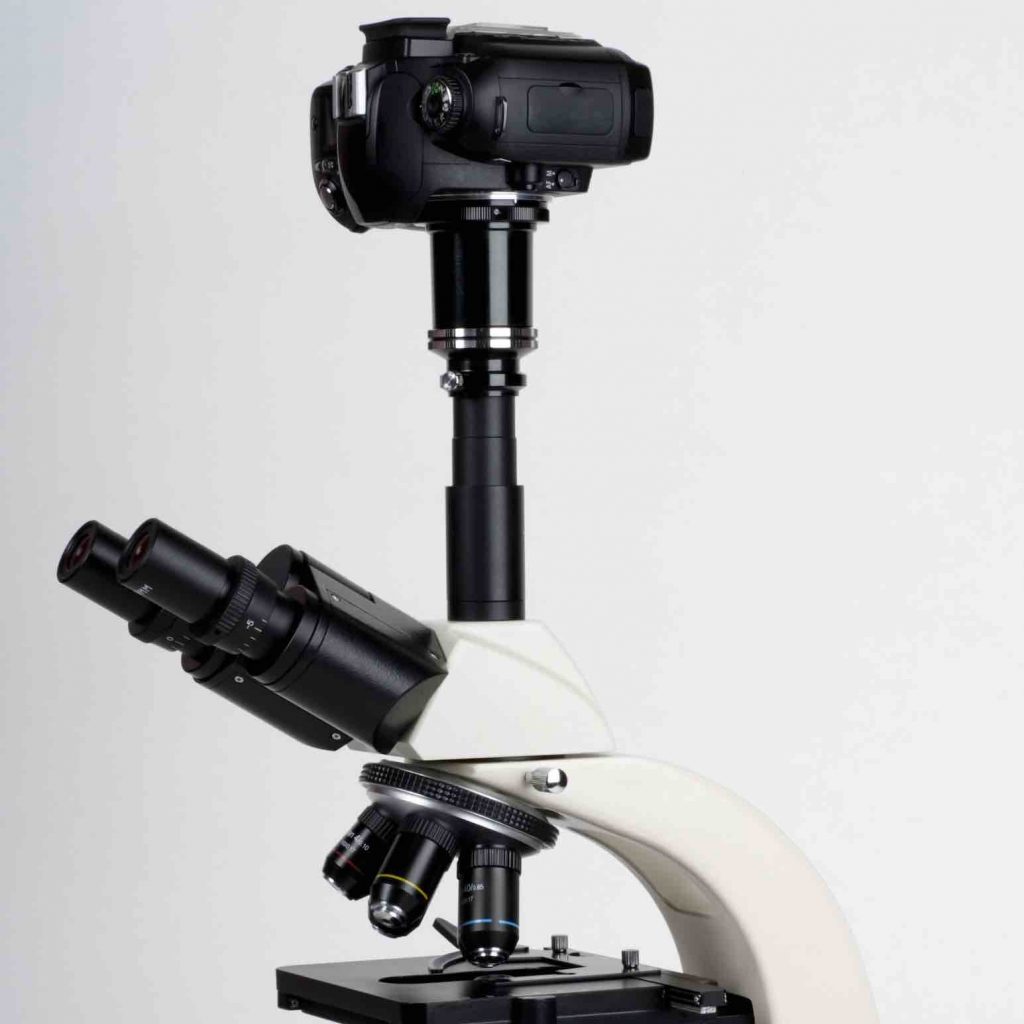 [In this image] An example of mounting a DSLR camera to a Trinocular microscope with adaptors.
Photo source: Microscope optical services
---
Note: You may like to include a few accessories in the gift package. For example, Rs Science has the best-selling item at Amazon to make your own microscopic slides.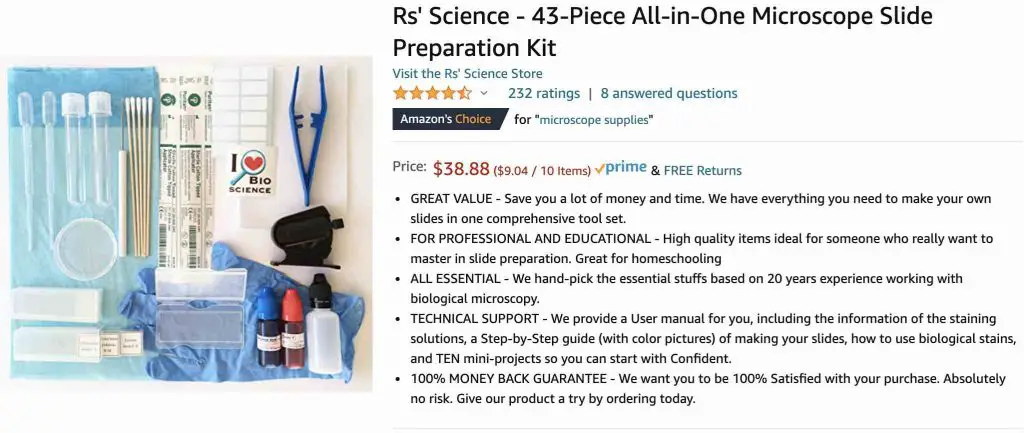 Get everything for around 100 dollars – BEBANG 100x-2000x Monocular Compound Student Microscope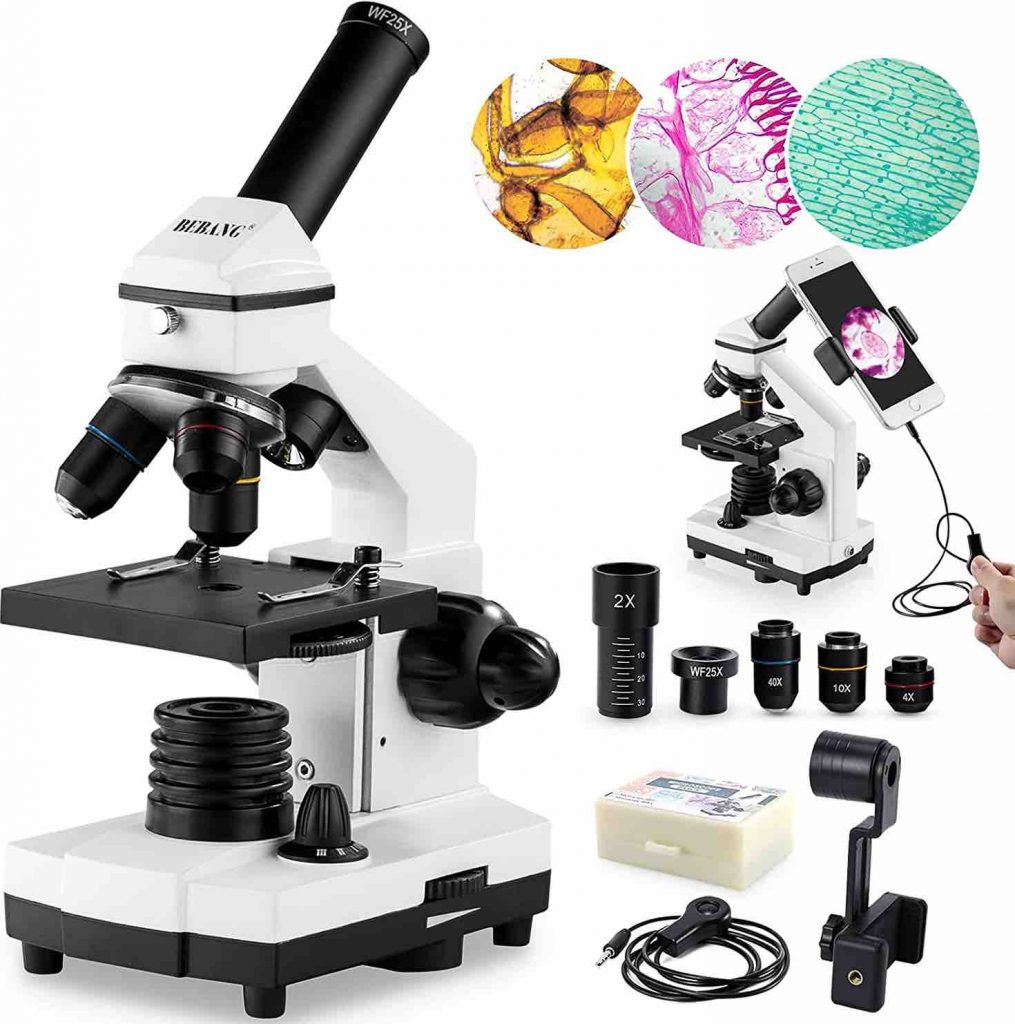 If you are not sure about investing in an OMAX microscope, here is a bargain option.

This BEBANG microscope could be a great start to encourage kids and students to explore science. This monocular model comes with one 25x eyepiece and a 2x lens. It is equipped with three objective lenses (4x, 10x, 40x) to generate a total magnification from 100x – 2000x. This microscope is made of a solid metal frame with both top and bottom. It also comes with a smartphone adapter so you can take pictures of what you saw under the microscope.
Stereo Microscope
Exploration with National Geographic – National Geographic Student Stereo Microscope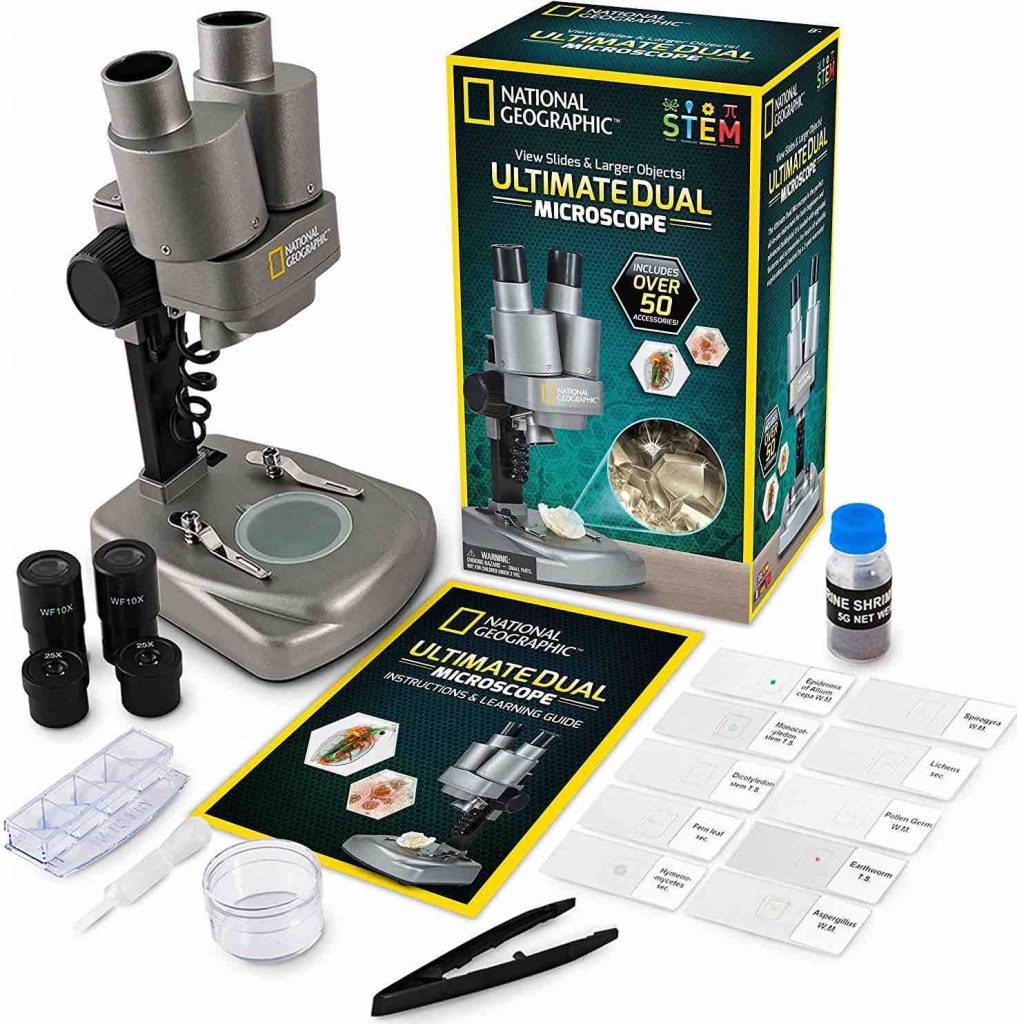 This is another bargain option that you can explore the microscopic worlds with boys and girls.

This is a stereo microscope (or dissecting microscope). This kind of microscope is ideal to view "3D" objects, such as insects, feathers, leaves, rocks, sand grains, gems, coins, and stamps, etc. It is like a more powerful magnifying glass. You may see biological specimens on slides, but the magnification won't be as high as the compound microscope. The good thing is that a stereo microscope could be easier and more straightforward to learn for beginners.

This set comes with accessories like slides, coverslips, tweezers, an eye-dropper, and a Petri dish. It also includes a box of 10 prepared slides with a range of biological specimens and a brine shrimp experiment. Sounds like it will be a lot of fun STEM activities in the box.

Note: If you would like to see more prepared slides and learn biology at the same time, check out Rs Science 25 Microscope Prepared Slide Set with two guidebooks.
USB Microscope
USB Microscope with a Stand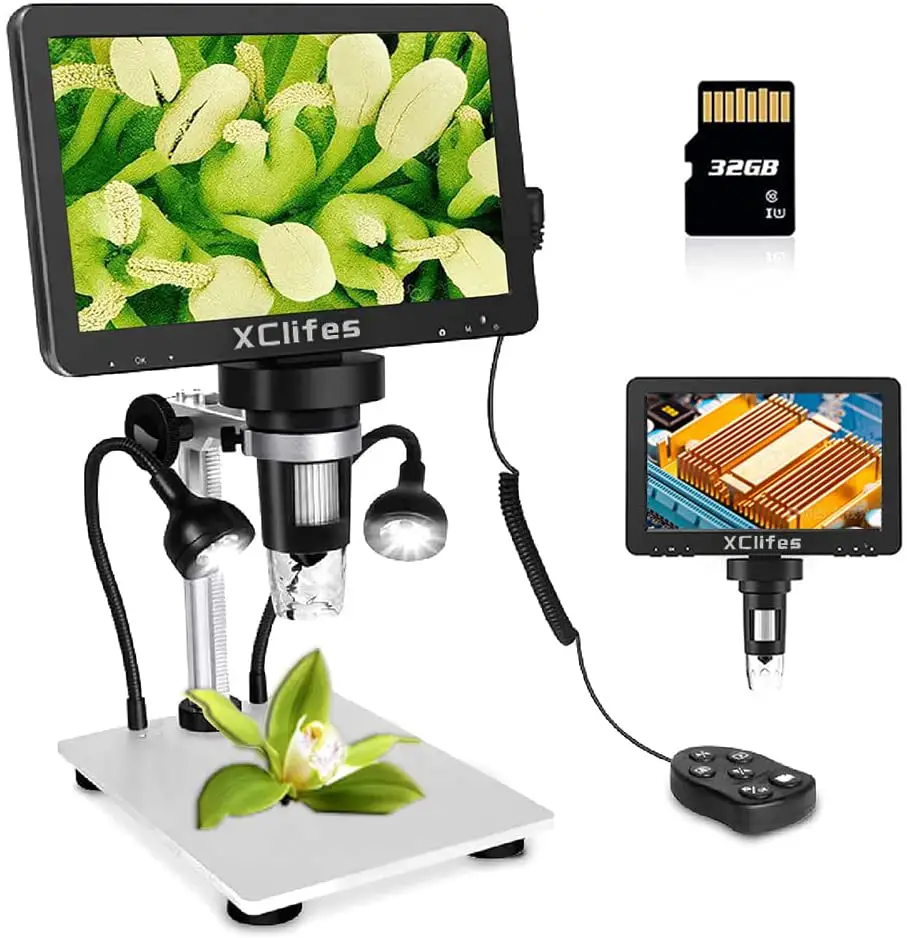 Digital USB microscopes are popular. You can see many kinds from many companies on Amazon. I recommend these two products after reviewing several of them.

Functionally, USB microscopes are similar to stereo microscopes, which are ideal to view 3D objects. The difference is that a USB microscope uses electronic sensors to catch the image instead of lenses or optical components, making it more affordable and easier to maintain. The image can be shown on the screen of your smartphone that is connected to the microscope by USB wire, WiFi, or Bluetooth.

USB microscopes can show you the texture of an object in great detail. It is fun to inspect insects, coins, bills, rocks, plants, foods, toys, or anything you can think of. You will be surprised or shocked by these everyday things under higher magnification. A USB microscope with a stand is more stable when you focus on your specimen.
Portable USB Microscope – Ankylin 50x-1000x Handheld USB Microscope Camera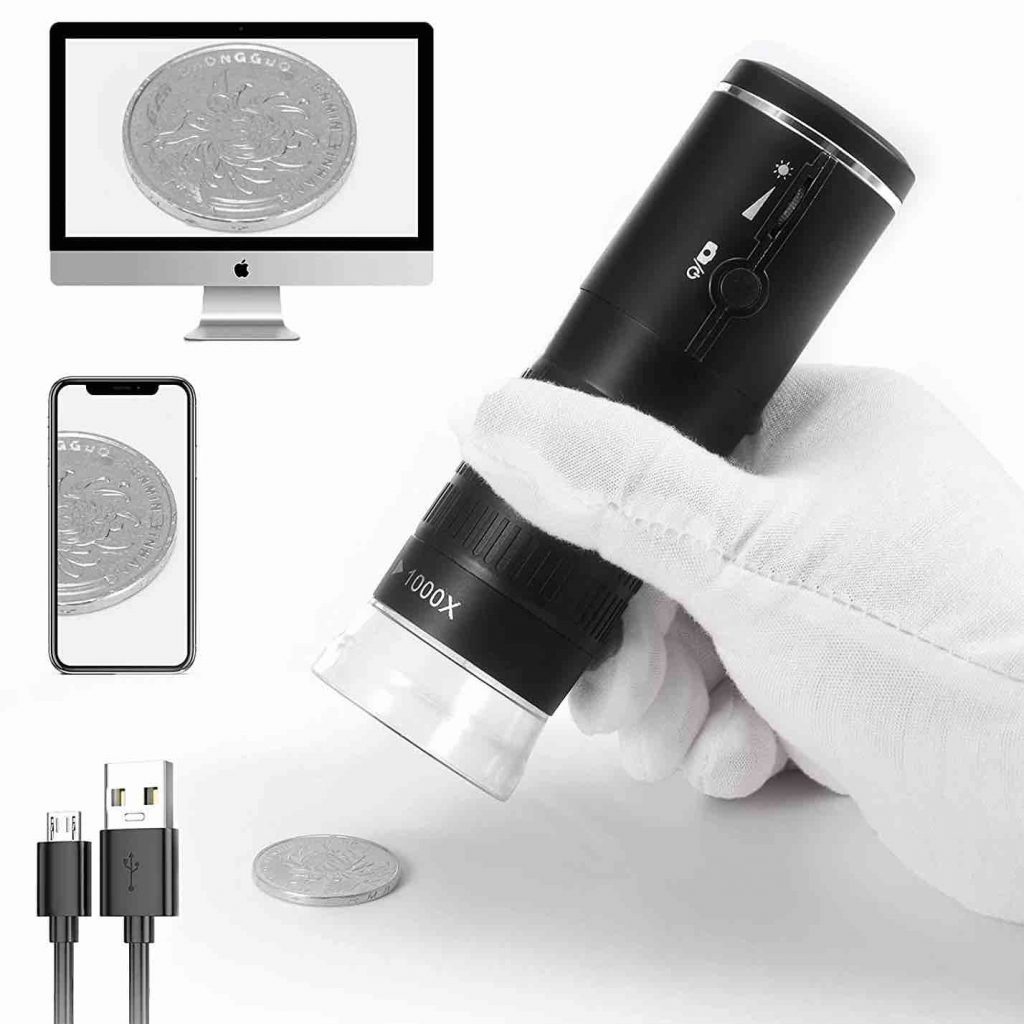 Portable handheld USB microscopes are ideal for kids or students. They can bring the microscopes in their pockets and explore the secret of nature wherever they go. They may look for ants moving sugar grains, hunt for quartz crystals on the beach, or ask why a kiwi has many hairs in a supermarket.
Mobile Microscope
Mobile Microscope with an elegant design – uHandy Mobile Microscope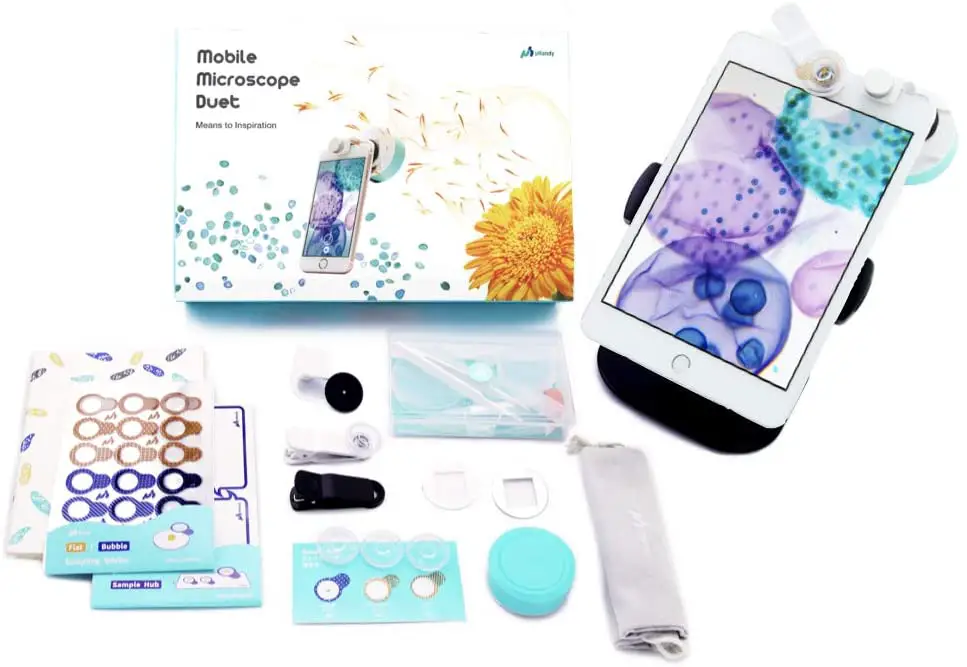 This small device can turn your smartphone into a microscope in 10 seconds. uHandy serves as a second pair of eyes for everyone to discover the surprises hidden around every corner.

This portable microscope comes from a small company in Taiwan. Since everyone has a smartphone today, why not transform the phone into a microscope? This elegant design can do it. This microscope can clip onto the camera lens of a smartphone or an iPad. Now, everything under the microscope will be 100-400x bigger on your screen! This set also comes with special stickers for you to collect the specimens you want to see, such as sand, pollens, and insect legs. You can even save these stickers in a collection book. They also provide a magnetic sample holder that can mount a slide for better images.

[In this video] uHandy Duet – 5 Different Ways to Explore the Micro-World!
---
See more STEM activities on https://www.loveuhandy.com/ or purchase one from Amazon.
Professional microscope which can go anywhere – Em1 400 Portable Field Microscope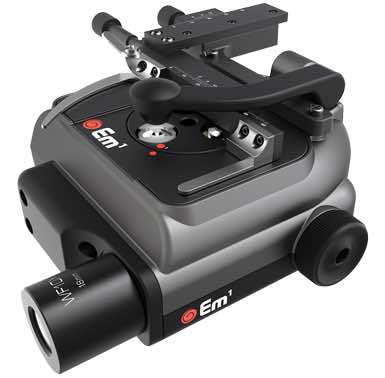 Do you ever dream of taking your microscope to travel with you?

This Em1 is a compact go anywhere, use anywhere portable field microscope. The size is like a standard DSLR camera, and the weight is less than 500 grams. Its specially designed optical system achieves high-quality, bright, sharp images in such compact space. Em1 is one of the most eye-catching microscopes I ever reviewed.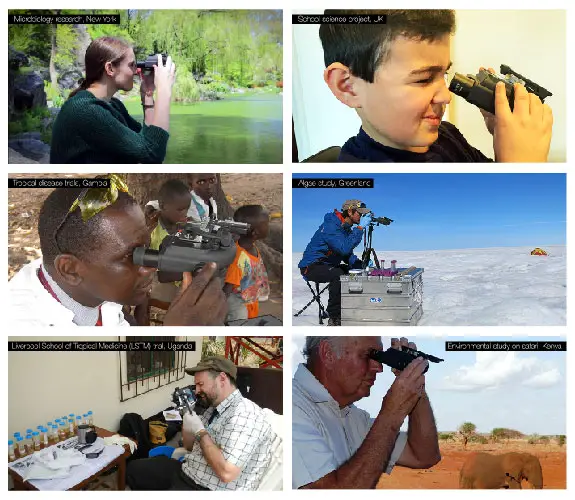 [In this image] A world of application – you can use this microscope anywhere.
Photo source: kickstarter
---
Em1 has an X-Y mechanical stage. The objective lens is under the stage (inverted design). This allows you to look at slides, thin specimens, or water samples quickly. Em1 provides magnifications of x100, x400, x600, and x1000 (oil) according to which objectives have been provided (there are three models). They also sell accessories to attach a smartphone or digital camera. You can mount the microscope on a tripod, too.
I was looking for a good portable microscope for teaching and field research for years until I found Em1. Of course, this is not an entry-level product. If someone looks for a microscope that can go anywhere with him/her; no matter the purpose is for research, education, or just for fun, Em1 could be a good choice.
[In this video] Pond Scum Under the Microscope. You can see that the microbiologist Sally Warring from the American Museum of Natural History used the same microscope when she studied the microorganisms from a pond in Central Park.
---
Paper Microscope
Origami-Based Paper Microscope – Foldscope Kit Pocket Mini Portable Microscope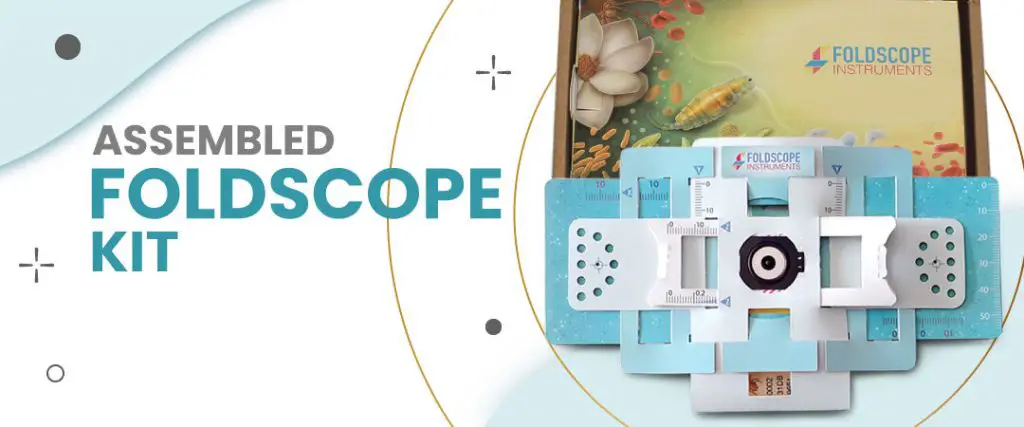 This is real. Foldscope is the paper microscope that began as an idea to make science more accessible.
Foldscope was invented by Manu Prakash and Jim Cybulski. The invention occurred while Jim was a Ph.D. student in Manu's laboratory at Stanford University. The idea for creating a low-cost microscope came to Prakash in 2011 while he was at a field station in Thailand. "What is the best microscope you can build for under $1 in parts?" This question motivated their work. The project blossomed into the invention of the Foldscope, and the foldable microscope made mostly of paper. Using paper is a brilliant idea; as the paper is not only very inexpensive but also gives rise to precision when it is folded into specific configurations.

That idea has grown into a company that now delivers low-cost tools around the world! Foldscope has reached over 1.5 million people and created an online community of explorers unlike any other. You can learn more about their story on https://www.foldscope.com/ or purchase one from Amazon.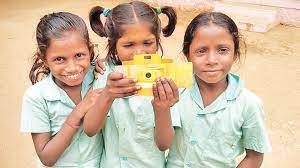 [In this image] Foldscope makes science education affordable around the world.
Photo source: Daily News
---
[In this video] Introducing Foldscope: The Paper Microscope.
---
Other Microscope
Let's play a 3D puzzle – Mr. Playwood Microscope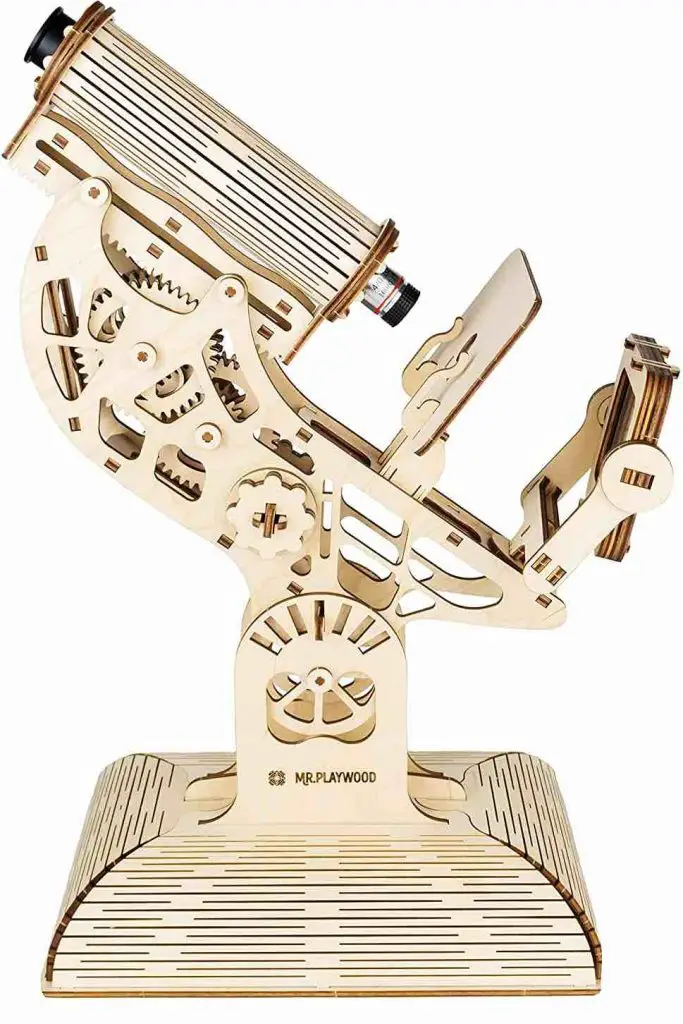 This wooden microscope could also be an art craft. If you are looking for a DIY project as a gift, this 3D puzzle could be a good one.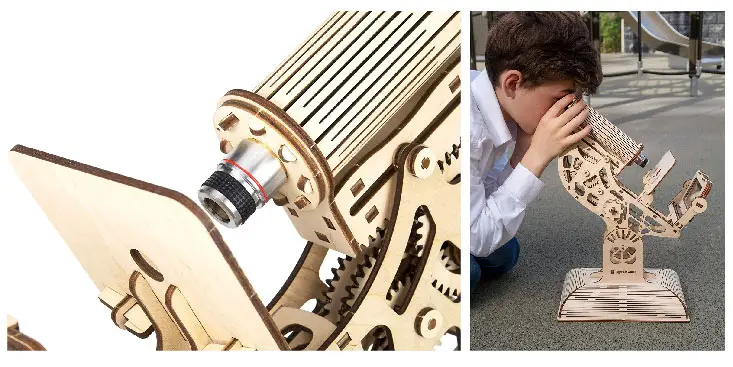 This is a microscope building kit from Mr. Playwood, a small wood workshop in Ukraine. You will receive many pieces of laser-cut plywood and a real 4X objective lens; all in a beautiful wooden box. Assembling this microscope itself is a unique and innovative game. They designed many mechanical parts like gearwheels to make it really fun. The microscope is ok to use. Of course, you won't expect high-quality imaging compared to these professional microscopes. However, you will learn how a microscope works by building one of them, making this set a great STEM gift!
[In this video] See how this wooden microscope works.
---
Learn more: https://mrplaywood.com/en/product/mikroskop/ or purchase one from Amazon.
Microscope in a book – Silver Dolphin Your World Through a Microscope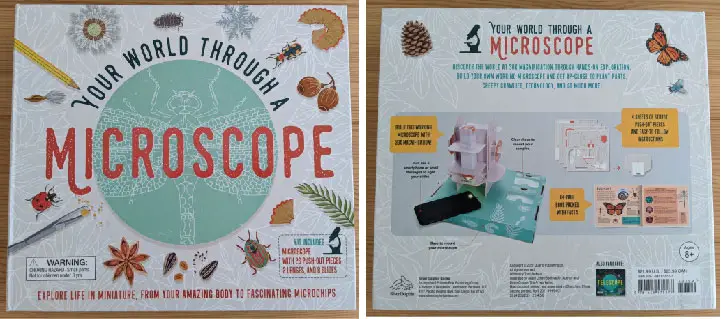 I bought this cool book in my local Costco. I will gift it to my 3-years-old son this Christmas and I am sure he will LOVE it.

This is a great playbook for young children to explore life in miniature. This book (64 pages) explains many biological topics in a simple and fun way with a lot of pictures. In addition, there are 4 sheets of sturdy push-out pieces with instruments that you can build a cardboard microscope. Although the magnification is only 30x, however, it will be bright enough to light up the curiosity of a young future scientist.

You can find this book and many other great playbooks in the Silver Dolphin bookshop.
Which one is your favorite gift?